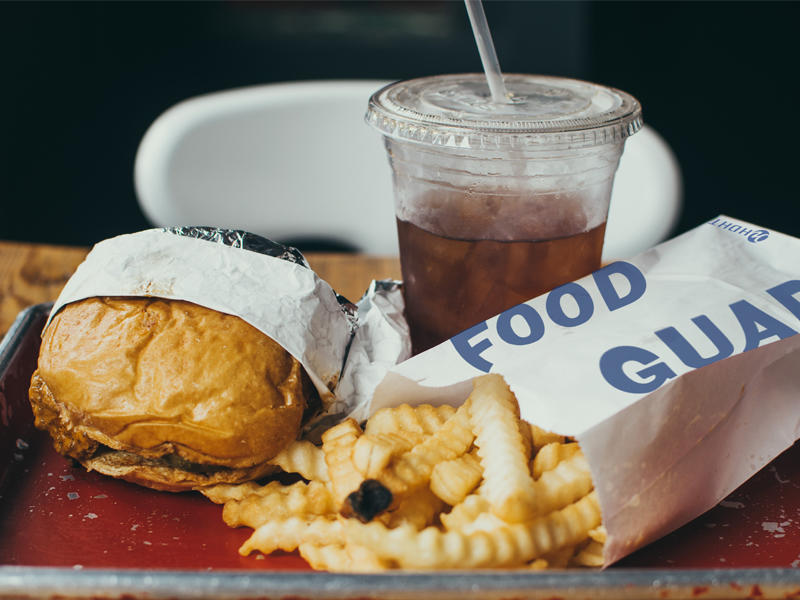 The importance of food packaging to food sales is undoubted. However, due to the characteristics of food, sometimes businesses have difficulties with food packaging, such as oily food. It can be said that it is quite difficult to be both beautiful and practical.
Greaseproof paper is also called coated paper bag, which is generally used to refer to the packaging bag with paper material and an outstanding oil-proof effect. It is mainly used to hold various fried snacks, such as chicken tenders, pancakes, dorayaki, etc. snack.
At present, most greaseproof papers use kraft paper as raw material, and a small part uses white paper. The ink is made of edible water-based ink, green and healthy, safe and secure.
The first kraft paper bag for shopping was born in St. Paul, Minnesota, USA in 1908. Walter Divina, a local grocer, looked for ways to get consumers to buy more at once to boost sales.
Today, retro paper bags have been endowed with more functions, and because of their environmental protection features, they can be loved by more consumers. Food-grade coated paper bags are widely used in bakeries, western restaurants, or family gatherings, and generally use two materials:
Food-grade kraft paper is used as the base paper, and the inner wall of the paper bag adopts PE coating technology, which is waterproof and oil-proof.
High-quality food-grade oil-proof paper is used. The paper has no coating layer but belongs to the base paper to achieve the 7-level oil-proof effect. It is suitable for light oily foods such as baked bread and biscuits.
Food-grade kraft-coated paper bags and food-grade greaseproof paper, and food-grade silicone oil paper bags, are environmentally friendly food-grade packaging paper bags with the characteristics of being non-toxic and odor-free. It has the characteristics of being moisture-proof and heat-insulation, waterproof and oil-proof, easy to carry, environmentally friendly and hygienic, and easy to hold. It is suitable for various fast food restaurants, food stalls, Roujiamo shops, supermarkets, etc.
Compared with other developed countries, the food packaging industry has always been in a backward state due to environmental protection technology issues. With China's social and economic development, the country's emphasis on and support for environmental protection, and the gradual enhancement of people's awareness of green environmental protection, more and more people realize the importance of greaseproof paper, food greaseproof that is as environmentally friendly as food-grade silicone oil paper, will gradually replace oily food in plastic packaging.